Tu Di Gong (土地公), the Earth God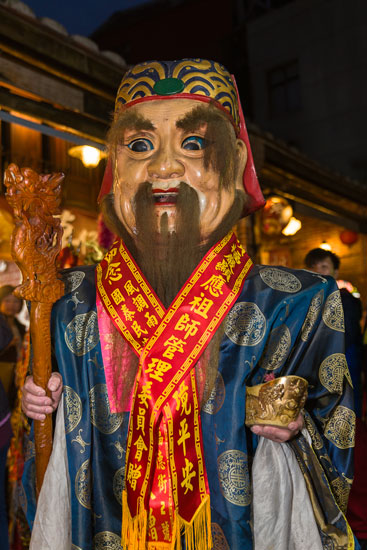 Tu Di Gong in a ShenKeng temple fair
Tu Di Gong is another local god, but compared to Cheng Huang Ye, who is tied to a particular town or city, Tu Di Gong represents any small place, be it a house, business, or field.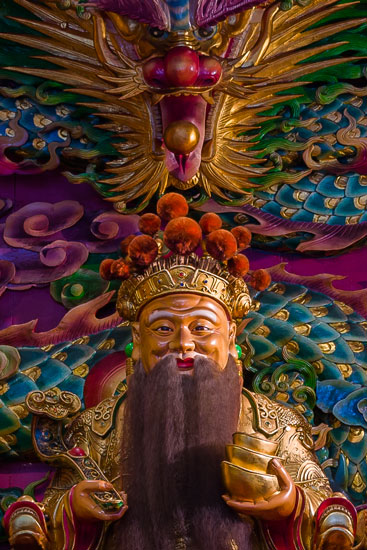 Tu Di Gong in a Taipei Temple
Because of this, while only a settlement can support a temple to it's City God, Tu Di Gong can be found anywhere. Tu Di Gong is thought to answer to Cheng Huang Ye, but his ubiquity and importance to agriculture and wealth mean that he is very widely worshipped. Tu Di Gong is seen as closer to the people, and because of the small area he can represent, he is commonly found in religious shrines in Taiwanese homes and businesses.
As with Cheng Huang, Tu Di Gong is an elevated spirit of a person who led a good life. However, his power is limited and so if he fails to prevent misfortune from striking his area, he may be replaced with another. His image is of an old, bearded man, with a staff in his left hand and gold in the right. Tu Di Gong is often seen in his temple alongside his wife. Their union is believed to have taken place after he had become a deity, with some stories portraying him as being too generous with blessings, causing her to be sent to control how many he would offer.
Previous: Ji Gong
Next: Golden Mother