Ji Gong (濟公), the drunk monk (also known as Dao Ji, 道濟)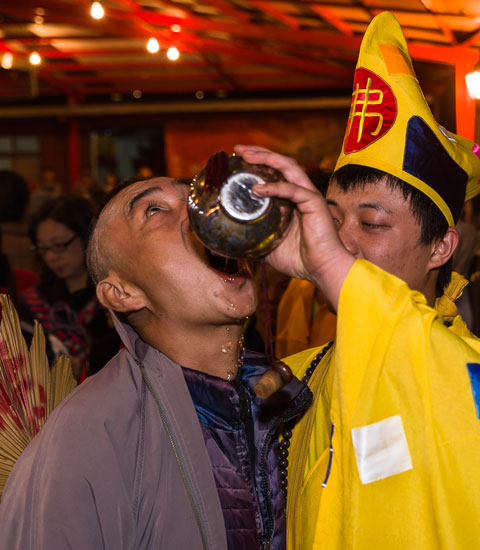 Ji Gong spreading joy
Whilst not considered one of the most powerful and important of the Gods, Ji Gong is certainly one of the most colourful. Born in 13th Century China, he was sent to become a monk at a Buddhist temple after the death of his parents.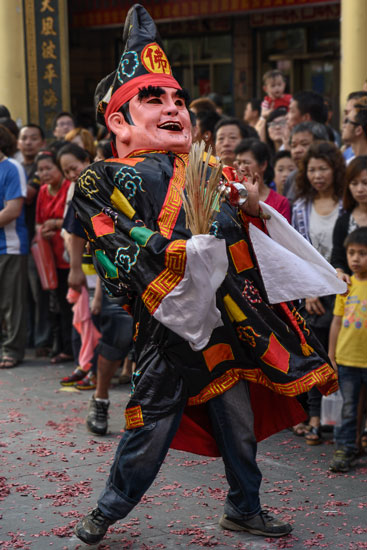 Ji Gong in Lu Kang
Whilst kind and good natured, Ji Gong was known for his love of meat and alcohol, both of which were prohibited by the temple. According to some accounts, his Buddhist studies granted him supernatural powers, but despite this, his vices were deemed unacceptable and he was expelled from the temple, living out his days travelling and helping people. After his death, he was quickly elevated to become a deity, believed by many to be a reincarnation of an enlightened being in the Buddhist traddition, and worshipped by both Buddhists and Taoists.
Ji Gong is recognisable from his tattered and patched black or yellow robes, and the character Fu (佛), meaning Buddha, on his hat. He is usually seen with a fan in one hand, and certainly with a container of alcohol in the other! He is constantly smiling and laughing, and when portrayed by a person in temple ceremonies, often pours (very real) alcohol into the mouths of followers.
Previous: The City God
Next: The Earth God