Golden Mother (Jin Mu Niang Niang, 金母娘娘), Queen Mother of the West (Xi Nu Wang, 西王母)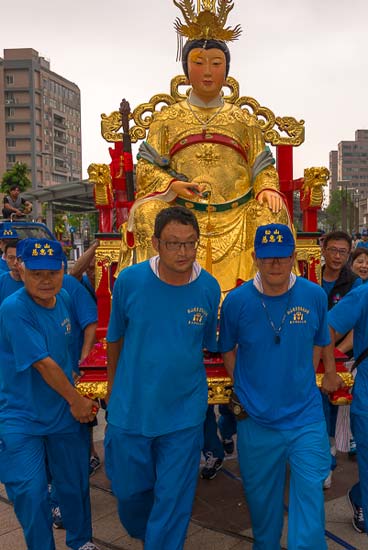 Golden Mother in a Taipei temple fair
An ancient and high ranking deity in the Chinese and Taoist pantheon, in Taiwanese popular religion the Golden Mother is considered, alongside Mazu, the most potent and important of goddesses. The first references to the Golden Mother hint at a female deity residing in the west, hence the oldest of her many names, Queen Mother of the West. These initial mentions originate from more than 3500 years ago, before even the establishment of Taoism. The first descriptions of her suggest a vengeful goddess, bringing disease and punishment to men, and with many tiger features, the tiger having long been associated with the west in Chinese culture. Early accounts also portray her as a shaman-like figure. However, as she was incorporated into Taoism she was reestablished as a much more benevolent deity, bringing peace, happiness and long life.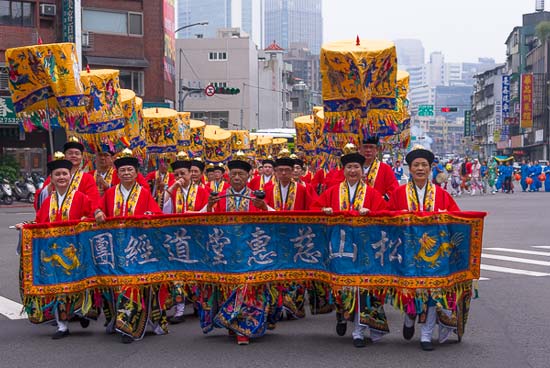 Taipei Golden Mother Ceremony
Most deities worshiped in Taiwan originated as people, but the Golden Mother's origins are mysterious - the Zhuangzi, written in the 4th Century BC, states "No one knows her beginning and no one knows her end."
The Golden Mother is believed to live in a celestial palace, atop a mountain in 'the west'. Often referred to as Kunlun, records suggest various names for the mountain upon which she resides, perhaps the best known being Jade Mountain. She is generally depicted as presiding over a joyous court of music and dancing, where time had little meaning. Her residence is also believed to contain trees upon which grow peaches which confer long life or even immortality upon any who eat them. These Peaches of Immortality (xian tao, 仙桃), thought to ripen only after 3000 years, feature in many stories and depictions of Taoist gods. The belief that she had the power to gift long or eternal life led many rulers to seek an audience with her in order to gain this blessing, most famously during the Han dynasty in the second century BC, when the Golden Mother visited Emperor Wu and presented him with some of the peaches. However, these meetings generally ended in failure for the hopeful monarchs, their lack of purity derailing their quest for immortality.
The Golden Mother has been a symbol of female power through large parts of Chinese history, and was sometimes demoted or depicted as subservient to a husband by those who did not appreciate what she represented. Most accounts depict her as single, although she is also sometimes shown married to the Jade Emperor, another hugely significant Taoist deity. Because of her gender, modern ceremonies involving the Golden Mother often involve women more than other gods, including in the role of pushing the palanquin (a carriage carried or pushed by people which contain statues of the gods).
Previous: Tu Di Gong