Cheng Huang Ye (城隍爺), the City God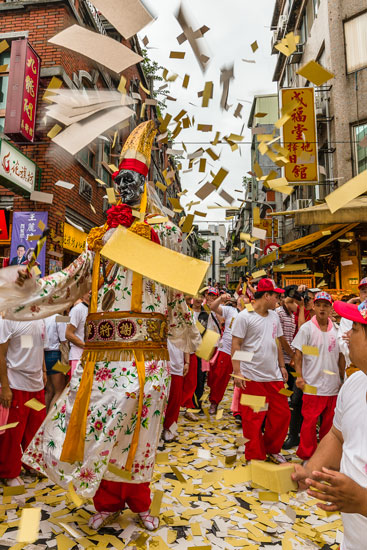 Qi Ye at a City God Temple
Cheng Huang Ye is one of a number of local gods worshipped in Taiwan. Although considered a single deity, with the same name and broadly similar appearance throughout the island, he is believed to be personified by different spirits in different cities and towns.
City God in Taipei
The name Cheng Huang means wall moat, and at first Cheng Huang Ye was primarily concerned with protecting the security of the settlements for which he was responsible. However, over time his importance and duties grew. He is believed to be responsible for protecting his city, town or village from natural disasters and drought, and judging it's citizens, both living and dead.
In keeping with his role as an administrator, the City God is believed to have been an honest and just civil servant in life, leading to their selection to become responsible for their local settlement in death. Sometimes the City God is seen in his temple alongside his wife. The origins of his spouse vary, in the case of the Taipei City God, pictured, she was offered to him by his followers after several young women died of heatstroke while worshipping him. They hoped that, if given a wife, he would not take any more of his female followers.
Previous: Qi Ye and Ba Ye
Next: Ji Gong