Tang Ki (Hokkien pronunciation) or Ji Tong (Mandarin), (乩童), the Possessed.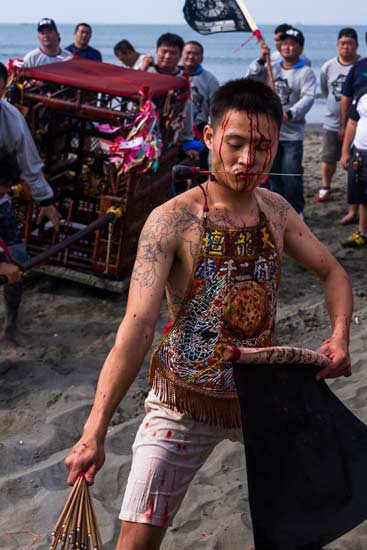 Tang Ki in Tainan Ceremony
The atmosphere surrounding a Taiwanese temple ceremony is often jovial - representations of child-gods or sparsely-clothed girls dancing to modern pop music, fireworks and a variety of impressive performances. However, these ceremonies can also have a grave and serious side, and that is best symbolised by the Tang Ki, spirit mediums. As with many Taiwanese religious practices, the Tang Ki spread to Taiwan and other parts of Southeast Asia from Fujian province in China. The origins of Tang Ki are believed to lie in very ancient shamanistic practices, and may stem from a desire from common people to democratise religion, historically dominated by the emperors and nobility. For ordinary people, the ability to communicate with the gods through the possession of one of their own must surely have been attractive.
Self-flagellating with Ci Qiu
In Taiwanese popular religion, the concept of mediums and possession is widespread. People taking part in ceremonies who play the role of gods are not thought to be acting, but to be vessels for those gods themselves. Spirit mediums might be sought for advice or to ask gods or spirits for help by believers. It is not unusual to see people taking part in ceremonies spontaneously overcome by a spirit or god, and be helped to pray in front of the gods before being released.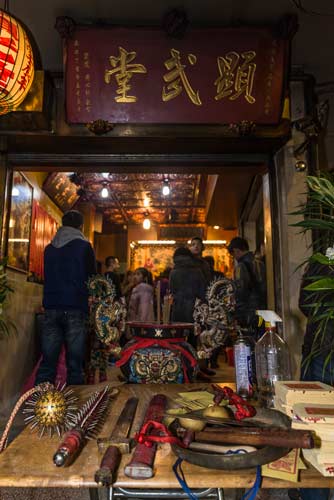 The Five Treasured Tools
Most of these possessions do not involve any self-inflicted violence, however the Tang Ki represents the most extreme form of this phenomenon. According to traditional beliefs, a person can come to be a Tang Ki in one of three ways. Some are people who are chosen by a god to be a vessel, they may have recurring dreams drawing them to a particular temple of that god. Many of those who experience this are thought to resist - the life of a Tang Ki is humble and gruesome - but they will experience dreams, strange sensations, even seizures, until they submit. The second path to becoming a Tang Ki is if an older Tang Ki wishes to retire, he will select someone to train, and ultimately replace him. Finally, some can become Tang Ki by themselves, due to their ability to open themselves up to the spirit world.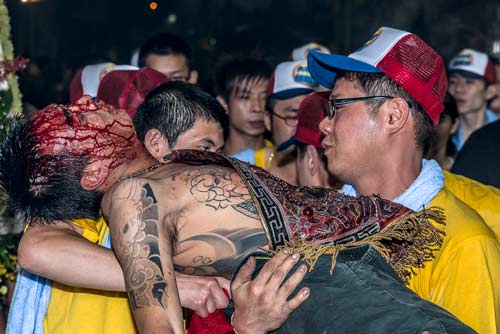 A Tong Ki collapses after the spirit leaves his body
During a ceremony in which a Tang Ki performs, he (it is usually a man, although not always) will display signs of possession, perhaps shaking, making unusual noises or signs with his hands. This will cease as suddenly as it began, but with the Tang Ki adopting an unusual stance and facial expression, not only unlike his own mannerisms before the ceremony, but also unlike those of any normal person. This is the sign that he is now a vessel, filled by a divine spirit. Tang Ki are almost always dressed in a special garment resembling an apron, covered with intricate patterns. These leave the back exposed, and ready for the centrepiece of the Tang Ki's ritual, self flagellations.
Traditionally, the Tang Ki uses five weapons, called Wu Bao Fa Qi (五宝法器), the five treasured tools. These are typically carried in a basket, pushed by a member of the temple group, ready for use. The Wu Bao Fa Qi are: a Ci Qiu (刺球), a ball studded with nails attached to a string, a Tong Gun (铜棍), a baton-shaped weapon also studded with nails, a Yue Fu (月斧) literally meaning 'moon axe', a Qi Xing Jian (七星剑), a sword, and Sha Yu Jian (鲨鱼剑), literally 'shark sword', a very serrated sword resembling the teeth of a shark. A Tang Ki may use just one, or some, of these weapons, but it is common to see all of them used.
A Tang Ki ritual involves them moving around the area, usually directly in front of a temple, with unnatural and unpredictable steps, stop, and then repeatedly hit themselves on either the back or upper-forehead with one of their weapons. After a few seconds they will stop, and move again. It is at this point that they will change weapon, often by engaging in a brief dance with a temple group member, who will hand them the next weapon. They will then repeat the process, often until all weapons have been used. In addition to the five treasured tools, a Tang Ki may sometimes hurt themselves in other ways. The most common of these is piercing, which may take the form of long and thin metal wires pushed through the skin on the arms or head, or a thicker bar being pushed through one or both cheeks. They may also be seen walking along lines of firecrackers as they explode, or burning themselves with incense sticks.
The drawing of blood is said to give the Tang Ki a 'kai mien' (開面), 'open face'. The reasons behind the self-flagellation are mysterious, perhaps unsurprising for an ancient ritual, and one which, given the Tang Ki's fearsome reputation, is considered taboo. However, it is likely, at least in part, to be a way to prove themselves as deities, as it is difficult to imagine a person who is not possessed mutilating themselves in this way.
When the ceremony is coming to a close, the Tang Ki will be released. This may cause convulsions, and a Tang Ki will often be restrained by members of the temple group while the god is exiting them in order to protect them. Alternatively Tang Ki will often pass out, and be carried away to rest and recover.
Previous: Ba Jia Jiang
Next: Guan Jiang Shou