Guan Jiang Shou (官將首), the Officers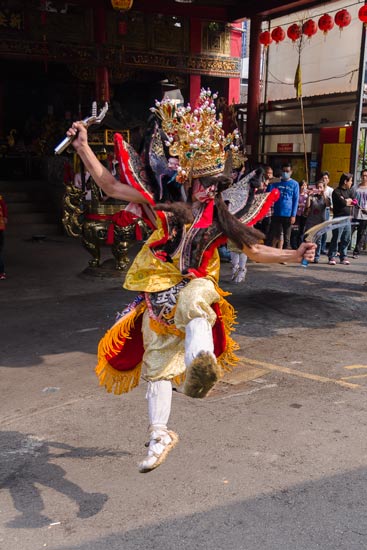 An Eagle member performs in Taipei
The Guan Jiang Shou, with the Ba Jia Jiang, make up the military array in Taiwan temple ceremonies. More common than Ba Jia Jiang, Guan Jiang Shou originated from Xin Zhuang near Taipei city. The membership of a Guan Jiang is more varied than Ba Jia Jiang, groups can often be seen with as few as three or as many as nine. The two groups in the military array are fairly easy to differentiate - Ba Jia Jiang carry fans, while Guan Jiang Shou normally do not, Guan Jiang Shou often wear fang-like teeth (although groups in Southern Taiwan generally do not), however the most accurate distinction is in their movements. Guan Jiang Shou is a newer troupe, only emerging in the last few decades, with their origins in Taiwanese theatre.
A three-strong Guan Jiang Shou in Yilan City
They move in the gui bu (鬼步), ghost step, which consists of two soft steps, then one sudden one. Aside from the two 'false' steps of the ghost step, their movements are sharp, said to represent the Yang (陽), unlike the smooth movements of Ba Jia Jiang, said to represent the Yin (隱).
The makeup of the Guan Jiang Shou is less clearly defined than the Ba Jia Jiang. The first of these troupes consisted of Er Zhang Jun (二將軍), two generals, named Sun Zhang Jun (損將軍) and Zheng Zhang Jun (增將軍), Sun normally wearing primarily green face paint, and Zheng wearing mainly red. These two are believed to have been evil demons, who were captured by the Buddhist god De Cang Wang Pu Sa (地藏王菩薩), who refuses to achieve Buddhist enlightenment until hell is emptied of all of its souls, and transformed, becoming good.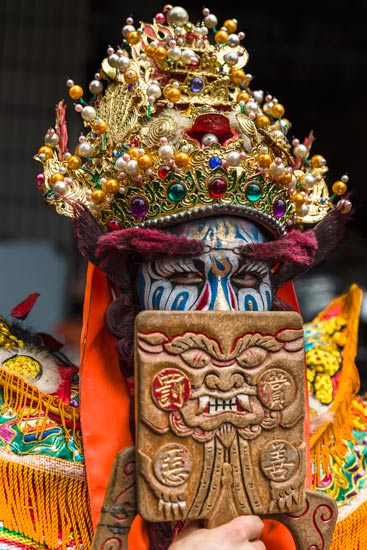 Zheng Zhang Jun with his Hu Pai
Zheng means increase, and so Zheng Zhang Jun is said to increase the lifespan of good people he meets, whereas Sun meaning decrease, punishes the wicked by shortening their lives.
The initial configuration of two members limited how varied their performance could be, and so a third was soon added, also normally a representation of Zheng, although often with his face painted blue instead of red. Sun stands at the centre of the three, holding his signature weapon, a san cha jian qiang (三叉尖槍), trident, and san jiao ling qi (三角令旗), a flag. The two Zhengs are usually armed with some combination of huo qian (火籤), fire sticks, jia suo (枷鎖), shackles, and Hu Pai (虎牌), tiger board, which often features writing promising rewards for the good, and punishments for the bad. This three member setup is still common, however some Guan Jiang Shou have added more members over time. Often the extra members take on the appearance of animals - the tiger general Hu Jiang Jun (虎將軍) is often seen, with his guillotine weapon the Hu Tou Zha (虎頭鍘), and often one member takes on the appearance of a bird or eagle, often with claw-like weapons in each hand. Larger groups also often feature swords, and a member carrying a hu lu (葫蘆), bottle gourd, an hourglass-shaped fruit said to have magical properties, which is thought to help the Guan Jiang Shou decide where they should go.
The main role of the Guan Jiang Shou, much like the Ba Jia Jiang, is to police evil spirits, punish evil and reward good. In this role, Guan Jiang Shou sometimes perform a 'night tour' on the evening before a major ceremony, clearing the path of the ceremony of evil spirits so that the next day, the gods can pass through smoothly. They will also perform the 'day tour' the next day, generally marching directly before the main gods, and acting as their bodyguards.
Previous: Tang Ki
Next: Lion Dancers