Taiwan is a beautiful and fascinating island, and religious expression here is particularly special. The world's major faiths are all present in Taiwan, but this site focusses on the most widespread belief system, a complex combination of Taoism, Buddhism and Chinese folk religion.
Gods of Taiwan

Scene from a Taipei Ceremony
The pantheon of gods that are worshipped in Taiwan's popular religion draw from Buddhist, Taoist and Chinese folk tradditions, although different temples and groups emphasise some over others. This mix presents no problem to believers because unlike monotheistic faiths, there is no book defining what the religion does and does not include, which has allowed a rich variety of different ceremonies, gods and customs to develop.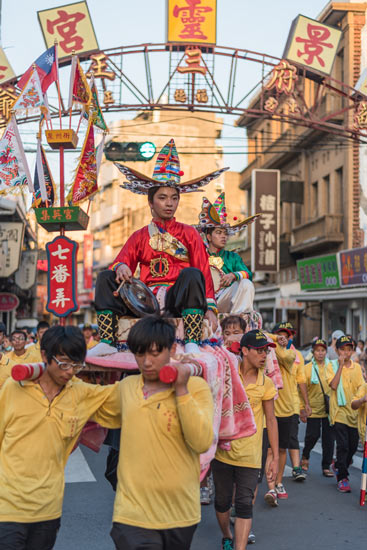 Troupe in Lukang Temple Fair
Temple Fairs
The aspect of Taiwanese religion that is most unique and spectacular is the religious celebrations, usually for the birthday of a certain god or temple, called 廟會 (miao hui, literally 'temple fair'). These consist of statues representing gods, which normally sit at the focal point of a temple, touring an area and visiting other temples and their deities. They are normally accompanied by a mix of temple troupes, groups which are tasked with the gods' protection and entertainment. There are many varieties of temple troupe, from the well known lion and dragon dancers to musical groups to girls dancing to modern pop music, and this mix is proof that although the origins for these beliefs are in many cases ancient, this religious culture is still alive and evolving.
Festivals
Temple fairs of various sizes are quite a common sight in Taiwan, and can be found in any major city on almost every day of the year. Some of these, however, are so large and significant that they are more like festivals, with the whole town turning out to witness a multi-day event. These are generally reserved for the most important of gods and temples, and often boast unique activities and groups. Some of the most important are to celebrate the goddess Mazu's birthday, and every year there are several large events to mark this time including Taiwan's biggest religious festival, which starts at Da Jia (大甲), at the famous Zhen Lan temple (鎮瀾宮). Another major type of festival is the burning of the King or Plague Boat, which takes place in many locations around Taiwan, although with three or more years between each time. The two best known of these are in Donggang in PingTung County and Xigang near Tainan.