Dragon Dance, 舞龍 (wu long)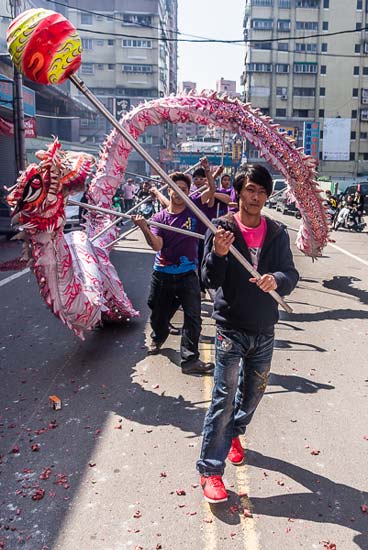 Dragon dance troupe in Taipei
No creature, real or mythical, is as synonymous with Chinese culture as the dragon, and with good reason. The first known depiction of a dragon in China is more than six millenia old, a pattern made from shells discovered in a Neolithic grave. The dragon also features as one of the 12 creatures of the Chinese Zodiac, and are associated with two of the five elements (五行, wu xing) of ancient China. Ancient Chinese texts such as the Chu Chi (楚辭) and Shan Hai Jing (山海經) describe several dragon deities, often associated with water and control over it. This connection with water persisted, as evidenced by the four Dragon Kings detailed in the 16th Century epic Journey to the West (西遊記, xi you yi), each of who controlled the sea of each compass direction. Dragons also represented the Chinese Emperors, particularly those with five claws, while fewer-clawed dragons could be used by lower classes.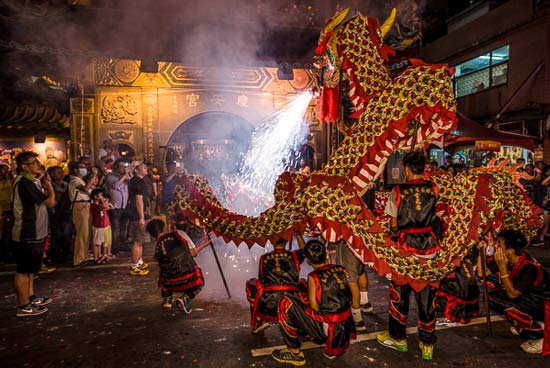 Performance in Keelung City
Dragon dances were widely chronicled beginning in the Han Dynasty (206 BC - 220 AD). Thanks to the belief that dragon spirits or gods were masters of water, they were used in times of drought, to ask for rain, or in times of flooding, in the hope that it would cause the waters to recede. The oldest dragon dances were very different from those of today - the Han era 春秋繁露 (chun qiu fan lu) describes people dancing among clay dragons to bring rain to their area. By the Song Dynasty (960 - 1279 AD) the dragon dance had evolved into cloth or paper lanterns containing candles, which could be made to dance by performers, much more closely resembling the dragons used in the dances of today.
In contrast to the lion dance, the dragons used in Taiwan are generally very similar, primarily differing only in colour. A team of nine performers typically control the dragon - nine being an auspicious number in Chinese culture, and one often associated with dragons. In addition, another member controls a ball, representing a pearl, believed to represent wisdom, and the head of the dragon will chase this pearl throughout the dance, trying to capture it. The dragon and ball are both controlled by sticks, often made from bamboo. The choreography of the dance can vary considerably, with simple performances in which the performers make the dragon's body wave from side to side, to moves in which dancers have to jump over parts of the dragon or pearl.
The colour of the dragon carries its own meaning. Green is thought to represent the harvest, and so a green dragon is believed to benefit crops. A red dragon symbolizes excitement and celebration, and is commonly used in Taiwanese ceremonies. Golden and silver dragons are said to bring prosperity, whilst yellow dragons are linked with the idea of empire.
Previous: Lion Dance